My family and I have spent the last two weeks driving around Switzerland in an old VW campervan. I am not a camper; it isn't something my family did when I was young. The idea of being stuck in a small metal box on wheels for fourteen nights as I emerged from several years of uncontrolled bipolar did not seem to be a particularly relaxing one. There were certainly moments when I thought "F*** this camping malarkey!" (for example when I smashed my forehead on the cupboard next to me as I rolled over in bed!), but surprisingly, this trip far exceeded my expectations. In fact, I actually enjoyed it.
Most people enjoy their holidays, look forward to them, count down the days etc… For me, holidays have been a significant source of anxiety for the last few years: out of my comfort zone, unfamiliar surroundings, airports to navigate, small children to keep alive!  The planning of the trip to Switzerland wasn't much different. I couldn't be bothered; apathy, disinterest. Every time I did try to engage with it, I became overwhelmed with worry about trivial practicalities. The negativity would set in. I felt passive- a passenger on a holiday my husband had planned and looked forward to.
The fog of anxiety lifted as we drove off the ferry in Rotterdam. That feeling, which I have become so accustomed to, floated into the distance leaving me feeling lighter, more playful and engaged. We spent two wonderful weeks yodelling and eating chocolate on the edge of spectacular Swiss lakes. The girls (almost 5 and 2) simply loved it.
Half way through our trip was #CrazySocks4Docs day. From the moment that I read about the campaign on twitter, I was determined to spread the word and increase awareness of mental health problems in doctors. Slightly difficult whilst in a van in Switzerlan! Although I can just about ask for a loaf of bread in German, my language skills don't stretch as far as discussions with the public about the emotional well-being of doctors!
I am one of the statistics: I have bipolar 2. I've thought repeatedly about ending my life. I have recently crawled my way back from a dark dark place. Not everyone makes it back. I know the despair and helplessness that those colleagues felt, the bleak abyss where no future seems possible.
Mental illness as a doctor is not a weakness or a sign of failure.  #CrazySocks4Docs was all about that.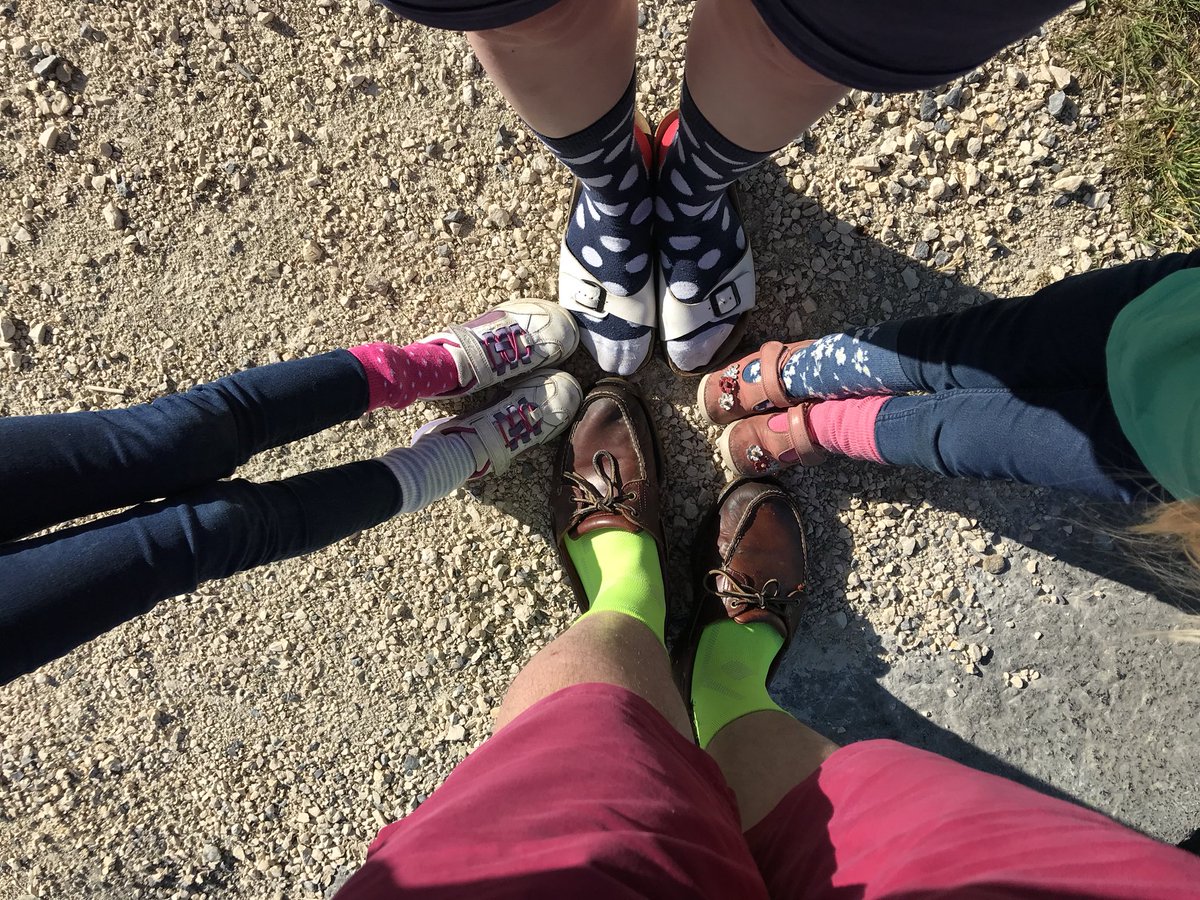 So, back to the morning of Friday 1st June, I proudly put on the craziest socks we had in the campervan. My eldest remarked that I "looked ridiculous!" I explained to her and her sister what Crazy Socks was and why we were doing it. She turned to me and said "Mummy, we want to do it too. We want to talk about how doctors feel." Simultaneously, my husband pulled out his fluorescent cycling socks and offered his support. Tears filled my eyes… I felt loved and accepted.
As the day unfolded, twitter filled with support for doctors' mental health. People from around the world donned their colourful socks and stood united. The message spread. Conversations started. #CrazySocks4Docs was so special. I felt accepted. I felt shame free and I finally realised that it isn't just me.
Two weeks have passed since #CrazySocks4Docs but the conversation must go on.
This week I went to see occupational health. Yesterday evening I had therapy. I cried. I took my medication before I went to work today. Tonight I will take more. But I am slowly realising that none of this stuff defines me. Because today I was a compassionate and caring doctor. Today I was a Mummy to two fantastic beautiful girls. Today I was a wife to the most supportive husband I could ask for. Today I was more than my bipolar.
Mental health problems are nothing to be ashamed of. Support each other, encourage your friends to talk and dot be afraid to ask for help.